Database .NET

-

直覺式多重資料庫系統管理

An Intuitive Multiple Database Manager
loading...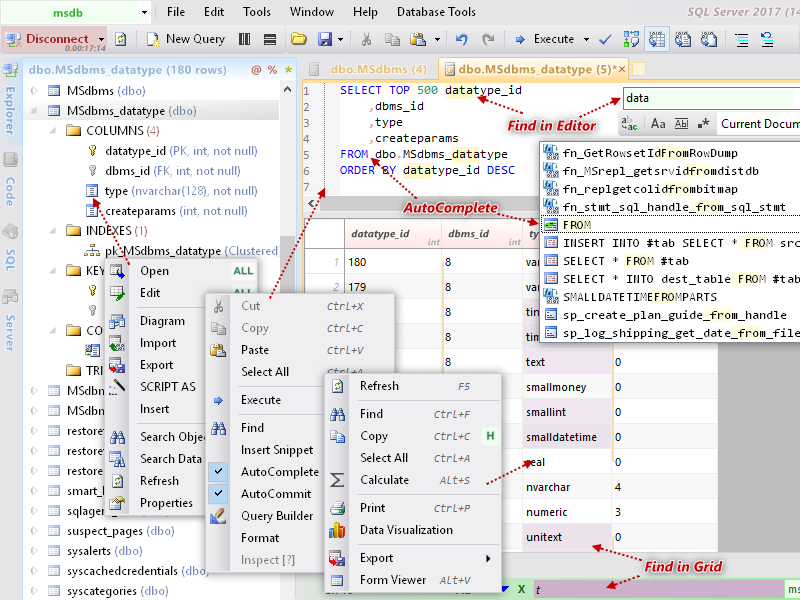 Database .NET
is an innovative, powerful and intuitive multiple database management tool


With it you can browse objects, design tables, edit rows, export data and run queries with a consistent interface.
創新/強大/直覺式的多重資料庫管理工具, 以一致性與更簡單的方式來顯示與管理不同的資料庫系統
包含資料庫物件瀏覽, 資料表與索引編修, 資料列編輯, SQL分析與調試, 指令碼生成, 圖像化, 列印, 匯入, 輸出等多方面處理.

Version 12.9.5372

(2014/09/16), 10.1MB

,

History

更新記錄

/

Features

軟體特色

/

Support

支持列表

/

Feedback

問題反饋

/

License
商業授權
Free for non-commercial, All-In-One,

Portable

, Standalone (No Installation) and Multlanguage 非商業下免費使用, 多合一,

單檔(免安裝)

, 功能強大, 簡單易用, 支持多國語言介面,

Supported Platforms

支持作業平台

Windows All (x86/x64)


Supported databases

支持的資料庫

: SQL Server, LocalDB, SQLCe, SQL Azure, MySQL, Oracle, IBM DB2, IBM Informix, PostgreSQL
NuoDB, Teradata, Sybase ASE, Access, Excel, SQLite, Firebird, dBase, FoxPro, OData, Generic OLEDB, Generic ODBC